He is the founder and animator of SUDRANDO. It is he who imagines, scouts, organizes and supervises the entire motorcycle program in France and abroad. A direct witness and / or actor of most of the major enduro and raid events since the beginnings, he has retained a taste for effort and sporting challenge. With an incredible memory of trails, he is able to adapt to all situations and knows better than anyone how to measure the difficulties on his routes. Attentive and available, he is never stingy with good advice and will always be at your side in difficult passages. The experience has developed in him a kind of 6th sense which allows him to anticipate most problems or respond to them with maximum efficiency. Sincerely attached to respect for the natural and human environment, he believes that this respect begins with a deep knowledge of the terrain. He pays particular attention to the environment of his organizations and remains attentive to the quality of relationships between individuals. Passionate about his job, this professional adventurer never misses the opportunity to tell you with complete pleasure the anecdotes that have marked his life as an endurance rider and the years spent in the service of off-road motorcycles.
A cook by trade and a big fan of motorbike sports, he adores these African adventures where he brightens up the bivouac with his good humor and the excellence of his cuisine. Very kind, he is always ready to help you, because his skills go far beyond the scope of his profession. Faithful in friendship, he is one of those solid men for whom the word given is a commitment. Over time, he has invested in the organization and has become one of its most valuable collaborators.
or miss RB & GPS, it is she who ensures the management « of the planned » on the African raids. His training as an engineer gives him the rigor and organization necessary for the good management of events. Discreet and efficient, it has the ability to be exactly where it is needed. Despite heavy responsibilities, she is completely available to everyone, always with the right word and easy laughter. In a few years she has established herself in this position and no one is now considering one of our adventures without her.
Thanks to all those (doctors, drivers, endurists, assistance mechanics, etc.) who occasionally from raids to hikes complete our team and provide us with their precious support.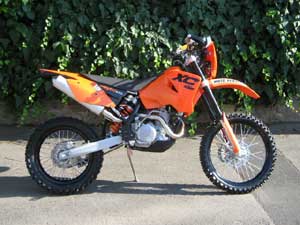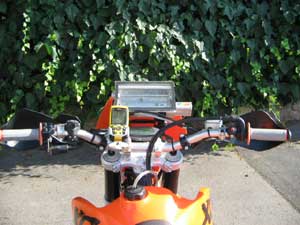 Reference enduro machine the 450/500 EXC has also been able to adapt to the constraints of the desert. Handy, powerful and light, it works wonders in technical passages and it remains very playful in the dunes. Equipped with the 14 L tank, an RB MD unwinder, a Garmin GPS, a re-settable trip and handlebar Bib-foams, it is perfectly suited to the navigation and driving conditions that you will find on our raids.
Bike Rental details
Within the exclusive framework of our raids and hikes
•Fees : Maroc 0.50 cts/km Mauritanie 0.70cts/km Rando 150€/day
• License: you must present your valid driver's license
• Age minimum : 18 years old
• Insurance: unlimited third party, fire and damage to the vehicle, with excess of the amount of the deposit
• Gasoline: not included
• Helmet and equipment: not included.
• Helmet and equipment: not included.
• Delivery to the places of departure: included.
• Payment: payable in advance by check or cash.
• Deposit: € 1,200 by check or cash payable in advance.
Mercedes Sprinter 416
VAN for assistance on hikes and logistics on raids Equipment: 2000W group, compressor, workbench, various tools, pharmacy, fridge, fittings for transporting motorcycles and bags.
RENAULT 340 TI 4X4
This is a key element of the system put in place on raids, in particular on TDD. Prepared for the Dakar, it is specially equipped for this assistance work. With a power of 460 hp, a combination of 36 gears, differential locks, 1000 L of onboard fuel, and inflation / deflation of the cabin while driving not much does not stop this 11-ton monster.
Built in the GST workshops in Moras (Isère), we find in its new cell, a workshop part, 6000 W generator, a welding station, an autonomous compressor, a kitchen area, 200l fridge, 340 l of water , 600 L of gasoline, racks for 30 trunks of 80cm, storage lockers and a compartment for bags and bivouac equipment.
On the cabin a motorcycle wheel carrier with a capacity of 15 wheels and at the rear a removable motorcycle carrier rail with 2 places
TOYOTA HZJ 78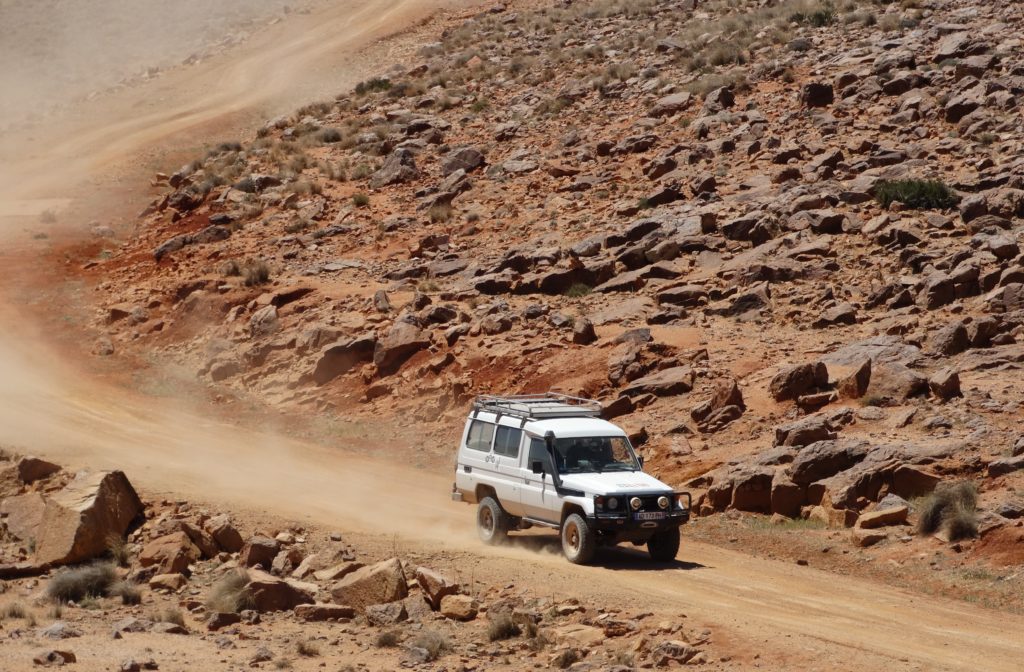 track assistance vehicle, with an on-board medic and full medical equipment (shell mattress, oxygen, etc.), it ensures track closures on raid. It is planned to ensure the repatriation of two motorcycles until the stage
In the field, the equipment is supplemented by:
3 radios HF,  2 satellites phones + 1 on TDD.